Sharing our experience: Business breakfast as an effective networking tool
`
Business breakfast – what is it? An effective tool that can solve a number of business tasks and attract new customers or just another trend and the cost of such events never pays off? We discussed this topic with Snezhana Maltseva, the development director at JetStyle, and here is what she thinks about it: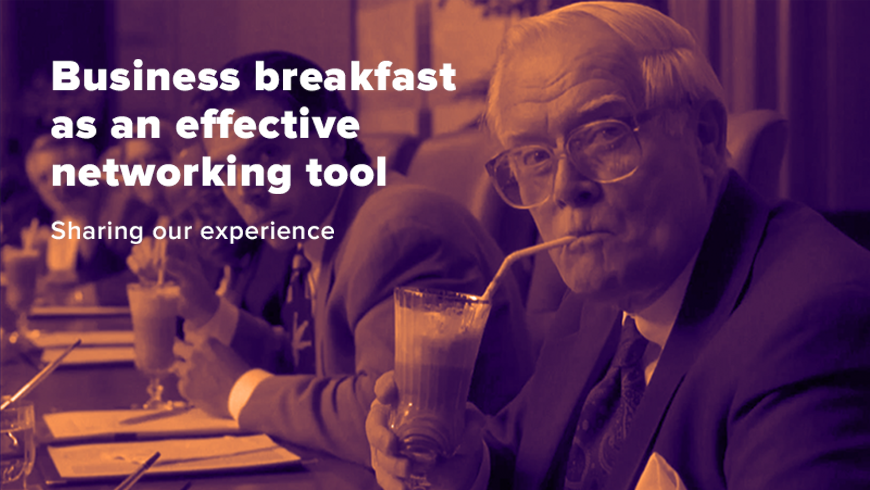 "We started organising business breakfasts in Yekaterinburg in 2010 and were the first among local IT companies. We were discussing topics and issues related to building online sales for various business sectors: for construction, banks, auto dealers, etc.
There were several purposes. First, business breakfast is an effective tool for networking and forming a client base for a new manager. The process looks like this: first, we define the industry and choose a topic for the event. The manager invites potential clients (we pick companies from the ratings and open industry bases). If other managers already work with clients from the chosen industry, we invite them too.
Business breakfast is a format that allows you to demonstrate a narrow-profile expertise very cheap. It is much easier to make new contacts and to get in touch after having a business breakfast together, especially if you send over materials after the event – this is the point for continuing the conversation. For managers with an already formed customer base, business breakfast is a tool to maintain the loyalty of current clients and repeat sales. In addition, there is an opportunity to get some of the former customers back.
If we talk about KPI, then the guidelines are as follows. For a successful event, we need around 20-25 potential clients to attend. The conversion rate from invitations to visits is usually 25-30%, so the manager needs to call about 80-100 companies. After the business breakfast we have:
• New customers – usually half of those who came. Let's say there are 10 of them, then with 5 we continue to communicate after a business breakfast, 1 or 2 turns into the sale. Which means that the conversion rate from a call to sell is about 2%. It is important to note that it's often a delayed sale. Clients come to discuss an interesting topic, and when they get this particular request – they remember about you and get in touch.
• Current customers – 3 out of 10 find new ideas for projects;
• Very "old" customers – 1 in 10 returns to cooperation.
If we consider business breakfast as a tool for working with expertise – we use it as a news hook. We published announcements in the sectoral media and posted the reports with brief summaries, presentations, photos, and reviews on our site and social media. In general, business breakfast is like speaking at a conference, but it's better – the time is yours only, you choose the topic yourself. But you need to make an effort to invite potential clients.
We stopped organising business breakfasts in 2014 because we have got the necessary constant flow of incoming clients and have changed the geography of the business from our city only to a federal level. Now we use a similar approach, but online: we conduct webinars with an orientation to international markets".