The impact of Covid-19 on the web development market: Client portfolio
`
We continue our conversation on how Covid-19 and quarantine restrictions have impacted the web development market in 2020.
And today, we will talk about our client portfolio. What did we do this year to retain our existing clients and attract new ones, which web development services were most in demand, and which services we now consider to be ineffective or completely useless? You can find all the answers in this post.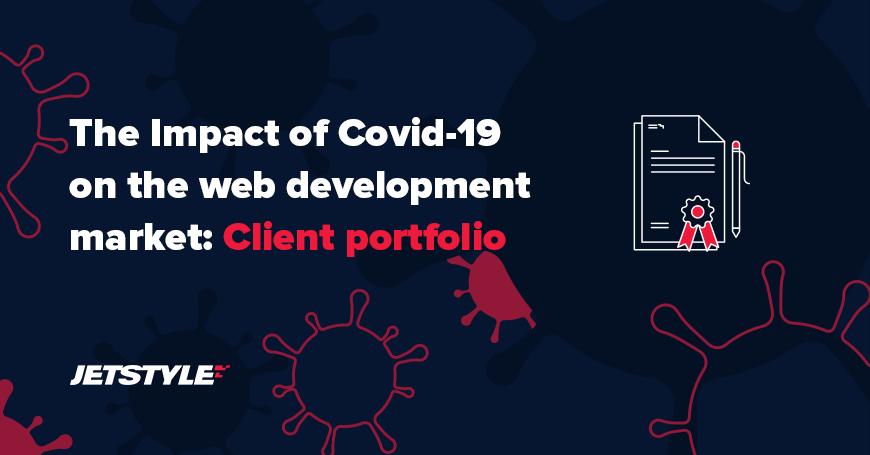 - Has your service portfolio changed? Have you added new specialisations, got rid of anything, or, on the contrary, completely concentrated on the web development niche?
- Changing our portfolio of services is not related to quarantine – it's just part of our strategy. We have highlighted the services we focus on, and some of them have been included in the entry products. We don't work with non-targeted requests and pass them on to the affiliate program.
We are now focused on a product approach to web development:
we create dedicated teams for our clients, set up analytics, design, marketing and development processes,

we start with an MVP development, and then we go through iterations,

together with our clients we formulate hypotheses and make sure that value is delivered as quickly as possible – with this approach, each release creates a specific observable and measurable benefit.
- Did any clients leave or stop working with you this year? If so, what measures are you taking? If the number of clients has not decreased, please tell us how you achieved this?
- The termination of relationships with some clients in our case is not related to quarantine – it is just the completion of large contracts, when further support, for example, is performed by the client. At the same time, the number of our clients doesn't decrease, we fill it with the new incoming ones.
Also, we are actively working with our existing client base and looking for new opportunities for our clients' businesses. We are focused on long-term cooperation because in the long term we can better understand how we benefit our customer's business. We don't see a churn of clients.
As for the incoming ones, the flow of client orders remained at the same level. But we started to pass more clients to our partners.
- How busy are you now, is there any downtime?
- All our developers are busy now, and we are expanding the team to take on new projects.
- What web development services were most often ordered by clients in 2019 and now? What are the dynamics?
- In 2020 we see a great demand for product teams, in 2019 there was nothing like this. At the same time, we strongly filter requests at the entrance and take only target customers.
- What services in the field of website development do you now consider to be ineffective or completely useless?
- In our opinion, it is completely useless to order landing pages from companies that in the future won't be engaged in advertising campaigns for which these landing pages were created. Firstly, it is more difficult to maintain a feedback loop between the promo team and the development team after the launch and quickly respond to changes based on data. Secondly, in any case, the product owner is important – a person who will maintain a common vision and synchronise everyone. This is much easier to do when working with one company.
In addition, it is rather ineffective to spend a lot of time writing a large technical specification with a list of features, if we are talking about projects lasting six months or more. Because you will first waste time, and then during the development process, everything may change several times. It is much more important to work out how the future product relates to goals and business metrics, what customer experience it relies on.
Due to the same need for flexible changes, it is not very effective to use the waterfall approach when creating large projects.