JetStyle: Our thoughts on Digital Detox conference in Altai
`
In August, we attended the first Digital Detox anti-conference organised by the guys from Creonit. Together with 50 other participants – representatives of the Russian digital, speakers from Notamedia, AIC, Globus, MediaSoft, Only, Atwinta, and JetStyle (ourselves), we spent three unforgettable days in the Altai Mountains.
Spoiler alert: The conference exceeded our expectations in all aspects.
Wondering why? Here is what our CEO Alexey Kulakov has to say about it. Have a read!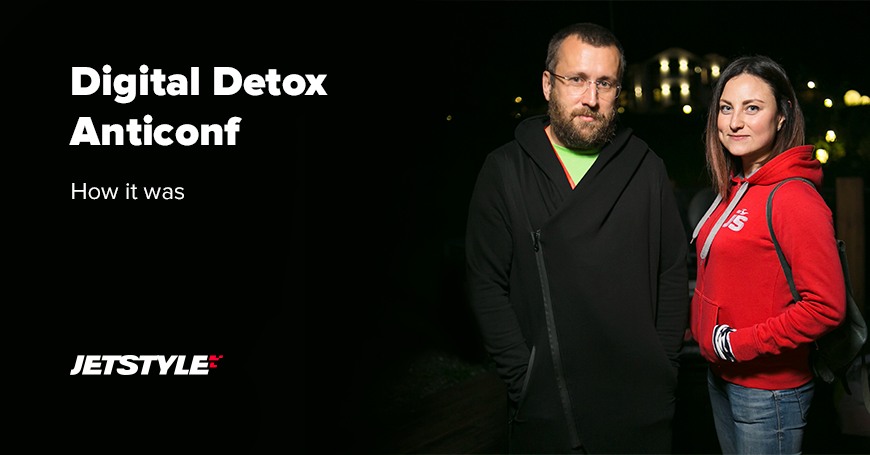 Alexey Kulakov, CEO at JetStyle, speaking about Digital Detox:
"To be honest, I originally went to this conference because it was just "another" conference.
Yes, we need to attend them, because it's PR, and in this case, because we need to build relationships with our colleagues in the industry (and we don't have that many contacts in the market, compared to the other guys doing the same stuff).

And so, my PR director said:
– That's it, Alex, you have to go there, meet new people.
And I was like:
– Well, what exactly do you want from me? Tell me what's the goal, make a checklist for success, tell me where to speak, what to dance, etc...
Long story short, I went there.

What do you usually think about before going to a conference?

Well, firstly, that you will be speaking there. It will probably be okay. Or maybe not. But let's understand who your audience is and what your goals are. And that's all.

Secondly, you don't particularly expect that you will hear something new and interesting for yourself. Rather, you expect that there could be one or two sensible speeches. If you are lucky enough.

Thirdly, you will meet someone at that conference. And there will be one, two or three new contacts (to be honest, I'm not a specialist in business networking), and maybe some of them will be useful in the future. Or maybe not.

Suddenly, the content of the conference turned out to be much better than I expected. This was actually one of the most eventful conferences in recent years.

To understand why this is so, you need to look at my list of successful conference concepts:

1. My favourite genre is a joint workshop and joint project activity – but this is not for conferences)

2. "How we f*cked it up" (aka fail conference) – there are usually interesting speeches from this perspective, because if you have a smart program director, he or she will make all the speakers speak about their experiences, passed through a personal relationship - this way we get sincere speeches. This is always interesting.

3."Work with a neighbouring subject area" is when we talk about the fact that there is such a subject area, we take such a tool from it, and we use it in our subject area. This is always interesting because it pushes us into the zone of proximal development.

4. "Real research" is one of the most difficult formats, in my opinion, when we only discuss what made the speaker stand out from the whole industry. They say this happens at scientific conferences.

5. "Stand-up" is when the speaker definitely gets into a topic that is relevant to the audience and shows their pain in an unexpected way.

6. "Summer camp for children or adults" is when we have joy associated not with the content, but with the atmosphere, how counselors behave, whether they let us go for a swim, and all that.

What do these concepts have in common? They force the speaker to share their experience sincerely, from within themselves and somehow save you from the banalities. If you don't use one of them, then the content at the conference will be banal, that is, the one that you've already heard.

The organisers of Digital Detox did great, they were able to make a kids camp with entering into a neighbouring subject area – and they succeeded.

As for insights. Insight is about the fact that other people's content allowed you to see and understand something new in your experience. I had a slightly different feeling. When I listened to the speeches at the conference, I realised that this one is similar to me in this part, but is not quite like me in that one, and therefore I need to present my speech that way, literally every next speech layered on the previous one. Many of them affected me.

Most of all I liked the speech of Sergey from Notamedia about happiness. We had a long discussion with him afterwards. That was very interesting.
In the speech of Yevgeny from AIC I really liked the model, and I had the desire to talk more about it because there were still questions. For example, why aren't poles marked in his vector model?

I really liked the speech of Sergei Poluektov about motivation. And I hope that we will get a chance to visit each other and talk about everything – as we are currently reviewing the system in our agency. And this is the closest thing to the insight – but it's still necessary to work it through to the state of "how can I apply all this in my agency".

In general, all speeches deserve special attention because they were sincere. And after many of them I wanted to go to the speaker and say: "Yeah, you are absolutely right on that one, let's hug." And I've got a suggestion for the organisers – use this as a tagline for the next conference: "Let's hug!"

And here is the most amazing thing. Speaking in terms of role-playing games, when you attend an IT-digital conference, you usually go to talk with characters, they all have social roles. You don't expect to meet with the player, and even more so with the person. Well, because, why would you? It's kind of like an armour exhibition.

And Digital Detox unexpectedly turned out to be as great a conference as my role-playing events. When you come to communicate with real people who love what they do, and they will show what they have inside. It turned out to be the same here.

And, finally, Altai! Of course, I expected it to be beautiful. But, to be honest, it's hard to find a more beautiful place, so all my expectations were more than justified.


I definitely got way more than expected. It was a success in all respects".
P.S.: Here are some beautiful views of Altai. As a reminder of why we should be there next year)