JetStyle: The impact of Covid-19 on the digital industry. Part 3: Work from home
`
All companies have reacted differently to the transition to work from home and its consequences. Together with colleagues from other digital agencies, we shared our experience with CMS Magazine.
Here is what Anna Tatyankina, an HR & PR Director at JetStyle, has to say on this subject: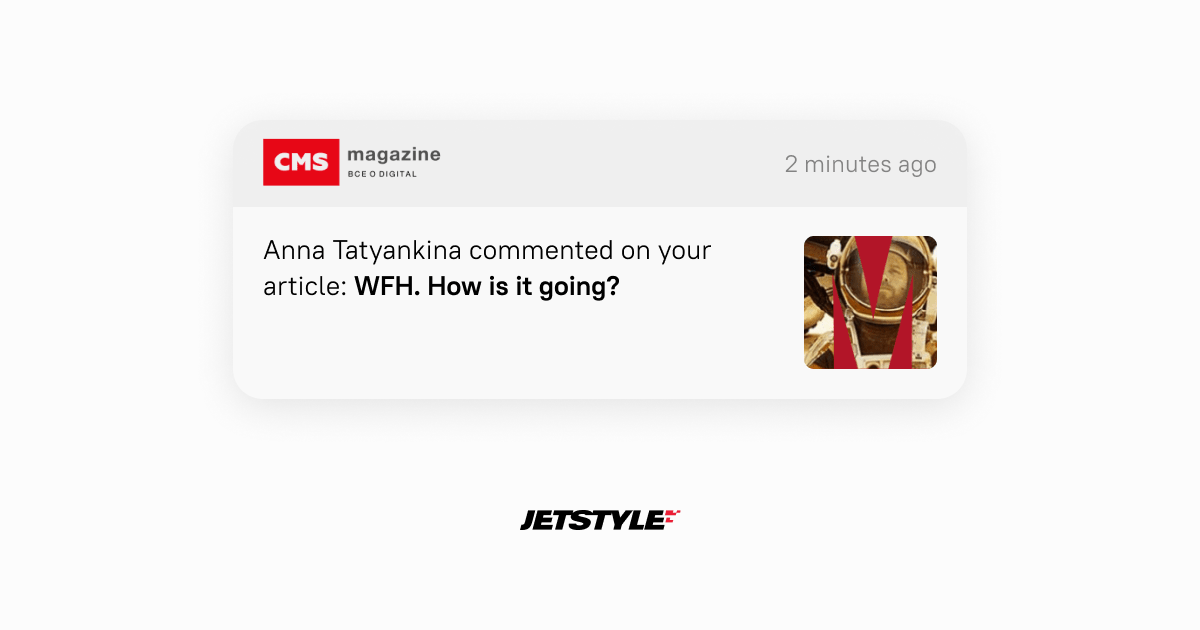 "From the very beginning of the Covid-19 restrictions, we thought about how to transfer all processes to work remotely as painlessly as possible. It was especially important for us not to lose the atmosphere of the company, which unites and supports us all. And that is bearing in mind that the company has over 100 employees.
The first thing we did was set up a chat on Telegram (because this messenger is the most convenient for informal communication) and started to talk about literally everything in the world: we wish each other good morning, discuss where it is better to order food from, who has what pets, etc. – just everything that comes to mind. The chat has been live since March, and it's become an important part of our WFH life – all colleagues are always in touch.
All important messages are also duplicated in Mattermost – our work messenger, and a separate channel on Telegram.
In addition to the chat, we have created a special Google calendar "JetStyle at home alla quarantini", where we add all the activities: be it watching a movie together or a training course. By the way, we do a lot of studying online now – it's much easier to get together this way. We had a programming course for designers (and they learned how to program a Snake game in JavaScript) and weekly seminars on Computer Science. We also had a few workshops on how to remain a team while working remotely.
Later we also added thematic chats about watching movies, cooking, quizzes, books, bike rides and an English conversation club.
By the way, since March, we have started working out online. We meet with the trainer twice a week via Zoom, any team member can join the class.
Every Friday we have a Zoom session with the whole team, where we discuss news, joys and difficulties, working schedule for the next week and the projects we are working on.
From our conversations with the team, it became clear that during the quarantine we all, to a greater or lesser extent, suffer from chaos, discomfort, lifestyle disturbances, and anxiety caused by this situation. Therefore one of our recent initiatives was a 6-week course of introduction to Mindfulness.
People, their wellbeing and mood are always important, but especially now.
Therefore, we try to find options to reduce stress levels. And yes, we began to communicate much more, which is good news. And we do not observe any failures in work efficiency".