Unit Economics: Post-webinar notes
`
We would like to thank everyone who joined us for our free webinar in English on unit economics last week. We are pleased to know that many people from different countries found it useful and stayed with us until the end of the stream.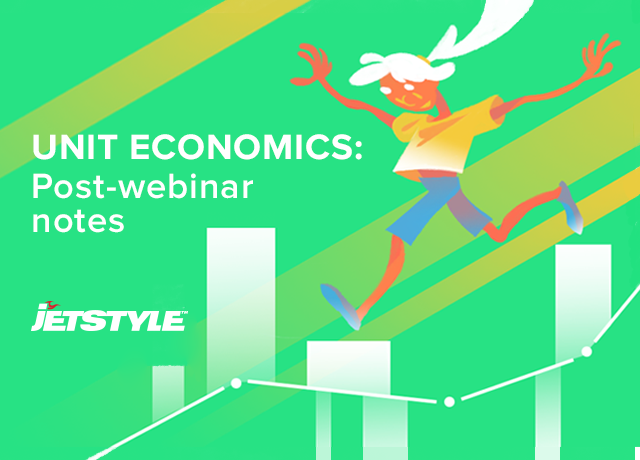 At the first part of our webinar, Ekaterina Sokolskaya, project manager at JetStyle, briefly explained what unit economics is, why it is so important to use it, and how unit economics can help you increase profits and manage their growth. She then presented our new development – the unit economics calculator, which allows to work out how efficient your business is in spending money to acquire customers on a per unit basis (per user, customer, product). By using real examples from different markets and different business models, Ekaterina has shown how to make such calculations.
At the second part of the webinar, Polina Bynova, Chief Marketing Officer at Ridero (an international publishing service), explained how international projects like Ridero can use unit economics and how it can help them in their work. Polina also shared their experience at Ridero of working in foreign countries and spoke about the differences between the unit economics in various countries.
We will keep working on our unit economics calculator – stay tuned for more updates! And thanks again for joining us.
In the meantime, we would like to invite you to our FREE individual consultation (via Skype), where we will talk directly about your businesses and projects and will help you calculate your unit economics.
To arrange a free consultation, please contact Ekaterina Sokolskaya at ks@jet.style