Free Webinar in English: Increasing profits in international markets
`
Great news! Due to numerous requests from you guys we decided to hold a webinar on unit economics in English on May 24, 2018 (11 AM CET). You will find out how unit economics can help you increase profits and manage their growth. It's absolutely free – all you need to do is to register here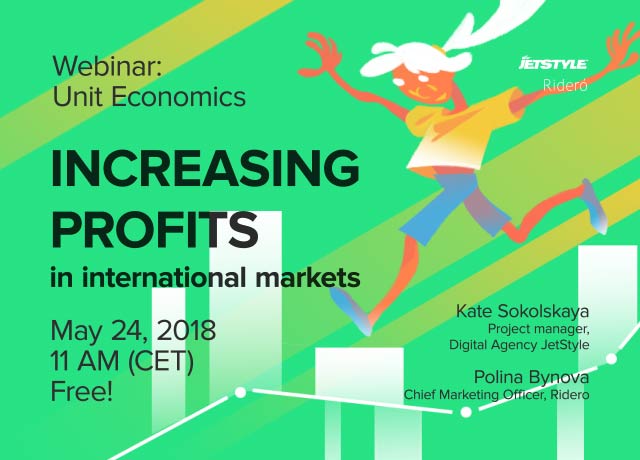 We will tell:
How unit economics can help you increase profits and manage their growth.
We will show:
How it works in different markets and how to calculate it.
You will find out:
What key metrics you need to keep under control.
You will learn:
How to work with the unit economics calculator and look for growth points.
Who is it useful for:
Business owners
Top managers
Marketing and advertising directors
UX-designers
Speakers:
Kate Sokolskaya, Project Manager at JetStyle, a digital agency experienced in digital marketing and online projects development.
Polina Bynova, Chief Marketing Officer at Ridero, an international publishing service.
Terms and Conditions:
The webinar is free, registration required.
Technical requirements:
To participate you will need a high-speed Internet connection and a browser with a Flash-player plug-in. We recommend that you test your system and Internet connection in advance to avoid problems during the online meeting.
Apart from that, we will be holding another free webinar on unit economics in Russian on May 22, 2018! You can learn more about this event and register here.