JetStyle Digest: Will 2018 be the year of the chatbot?
`
To finish off our month-long conversation about chatbots, we prepared the first ever JetStyle digest for you!
Will 2018 be the year of the chatbot? What are the latest trends in this exciting tech? And how will it change the way we do business? Find out in our new blog post.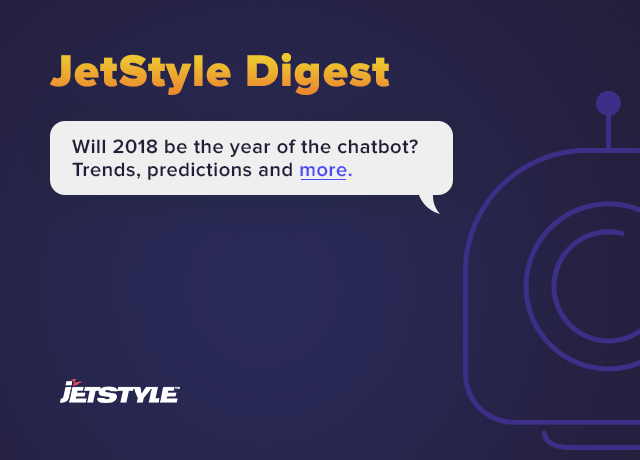 How Enterprise Chatbot Platforms And AI Are Fundamentally Changing The Way We Do Business
The usage for bots has grown, with many businesses using them for internal and external reasons, and in more than B2C businesses. B2B businesses are finding new and unique ways to use this AI to automate their processes for maximum efficiency.
Enterprise chatbot platforms and AI are fundamentally changing the way we do business, and it's more important than ever that you stay current with this growing trend.
Realistic AI Chatbot Trends for Businesses in 2018
The adoption of chatbots by SMBs, like most business tech adoption, is likely to be driven by three factors: lower costs, improved technology and growing demand. Just a few short years ago, it was unheard of for an SMB to have a custom app, but as large corporations started pushing out apps and low-cost app creation services popped up, consumers began to expect apps as part of the standard customer service process.
Will 2018 be the year of the chatbot? Not without human help
"Some organizations think chatbots will automate a process or avoid call center calls—but the truth is chatbots are like the advent of the ATM," Harles said. "Many thought the ATM would replace banks and tellers, but in reality, it simply created a new channel. That is what chatbots will deliver for brands—a new communication channel."
How the Future of Business Will Integrate AI, VR, and Chatbots
Artificial intelligence and virtual reality have both been science-fiction staples for decades. Chatbots are significantly more recent, but businesses are familiar with using live chat applications that have a human on the other end.
Not surprisingly, analysts eagerly wonder what the future holds and how it'll reshape the business models of tomorrow. There are several likely possibilities.
Six Trends for 2018: What to Watch from Messenger
According to a Facebook-commissioned study by Nielsen, 56% of people surveyed would rather message a business than call customer service, and 67% expect to message businesses even more over the next two years. And while calling still plays a prominent role in customer service, this has opened the door for brands and businesses to communicate with their customers in a variety of new ways to not only respond to issues or one-off questions but to offer an up-sell opportunity to benefit both people and the business.