JetStyle traditions: "OnoSamo" – competition and awards ceremony
`
We want to share a story about one of the long-time traditions we have at JetStyle – "OnoSamo" competition and awards ceremony.
Since 2012, we have been holding an internal "OnoSamo" awards ceremony at our annual New Year's parties to show each other what cool projects we have done in a year and choose the best ones.
And today we will tell you how this unique tradition was born, how it changed over time and what we have now. Have a read!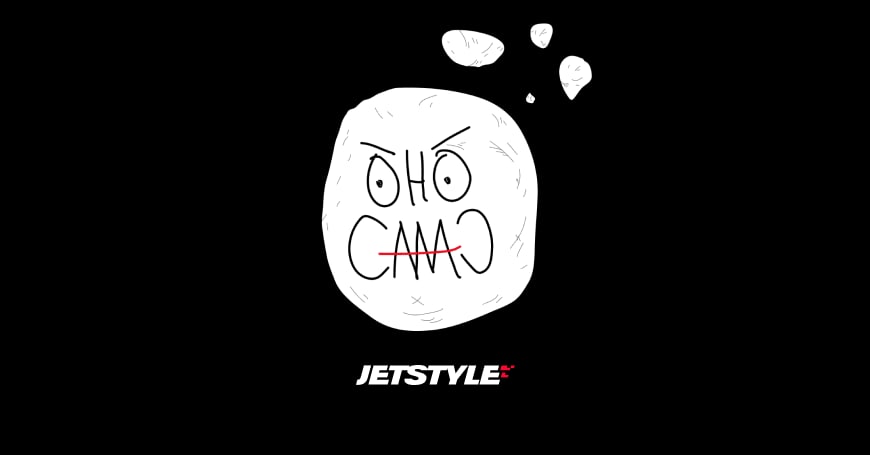 Why?
Some time ago we realised that it is very important for us to:
create a common context for communication within the company;

tell and learn what cool projects we have done and what else we can do, because the company is getting bigger and bigger (there are 100 of us now), but we know less about each other's activities now;

share not only joys but also what happens in our common life;

have another reason to do our job well so that we can be proud of it;

get support and feedback from colleagues.

Therefore, since 2012, we have been holding our little internal "Oscar" ceremony at the New Year's corporate party – the "OnoSamo" competition (it translates from Russian as "by itself"). It's called that because how does it all work? By itself, of course!
Over the years, "OnoSamo" has undergone various changes:
we had a special website (which we then stopped using),

we changed nominations,

made various diplomas and awards,

tested different voting methods,

we have always held the event offline, but this year we switched to the online format,

but one thing remains unchanged – the feedback from our teammates and the understanding that this is an important thing)
Long story short, we will tell you all about it and, perhaps some of our ideas will be useful to you)
So, we have already answered the first most important question – why do we need this. Now it is important to understand what kind of format we have, what can be submitted to the competition and how to evaluate it.
Format
All previous years we have been holding OnoSamo offline – once it was a small event, then it turned into a big one: with a real stage, a bunch of screens and a reason to dress up.
But this year we had to move everything online, and, in fact, it turned out to be a successful experience that we will keep – we will need to refine the technical aspects with the broadcast and so on, but still.
Before: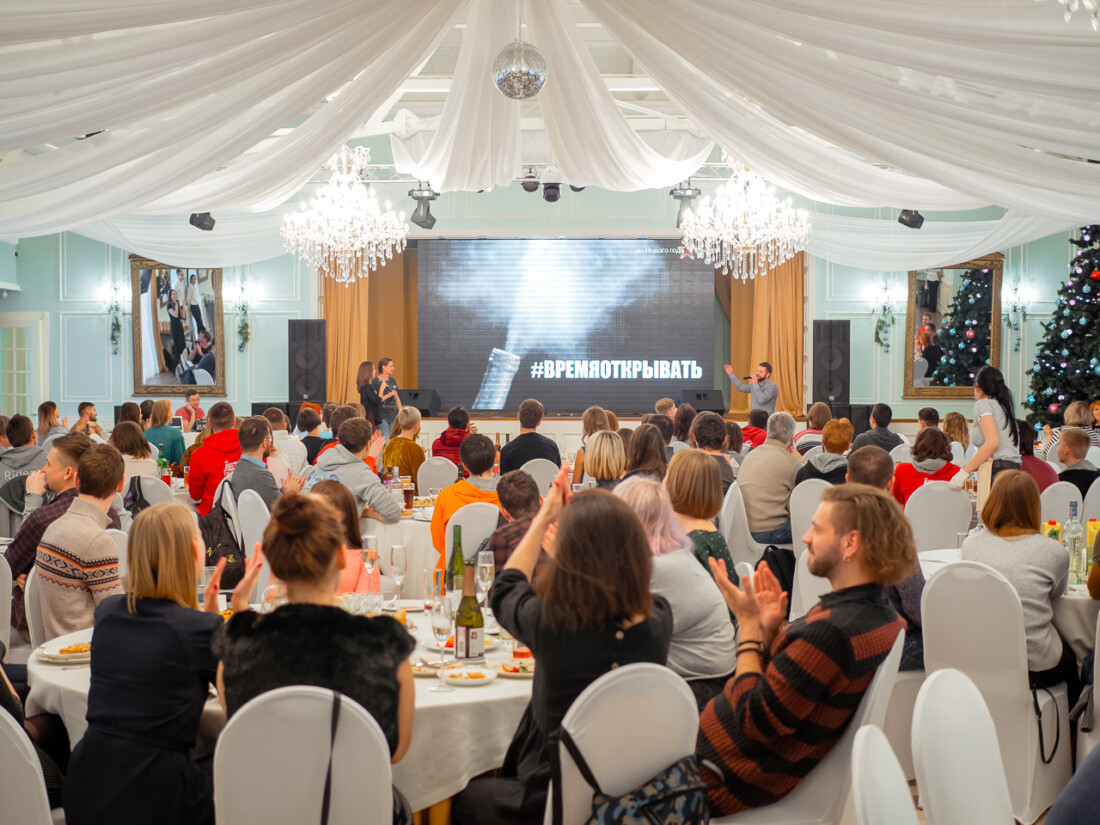 Now (feel the difference, as they say):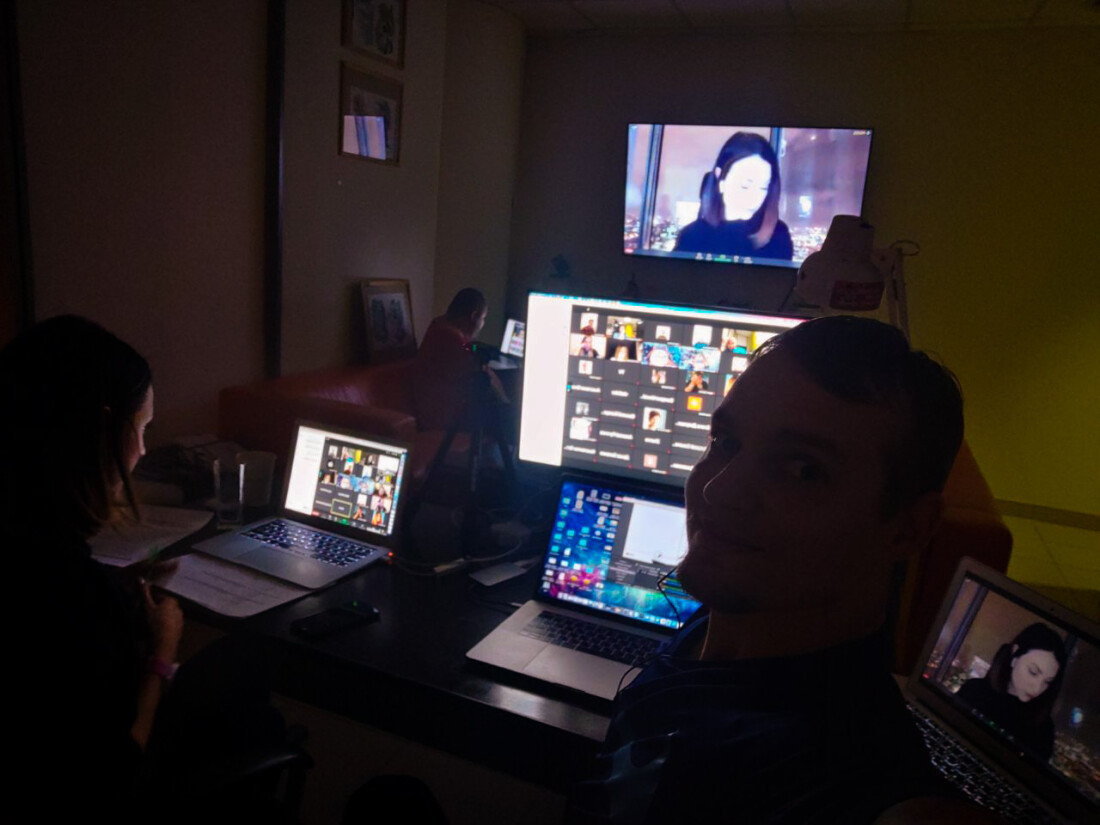 Rules
You can enter the competition with a project. By project/work we mean almost anything useful:
a commercial project that we have done for a client;

a non-profit project that we did because it was great;

an internal project aimed at improving and automating processes within the company;

some particular completed parts of the work (design, programming, etc.);

a description of the project, if it is a socially important process.
You can participate as a team or individually.
Some of the rules remain unchanged:
Timing. The performance time is limited to three minutes.

Self-determination. One project can enter one nomination only. The list of submitted applications is open.

Content. At the event, participants need to tell or show what is so special about their projects. It can be a presentation, video, stand-up, whatever.
What exactly needs to be described in the required program:
1. Problem (what exactly was improved, who needed it and why, what was bad and became good, who is happy and what is the benefit, etc.);
2. Why what has been done is awesome, why the team/person who did it should be praised and why we should all brag about this success, and wish it was our achievement;
3. Everything else is optional;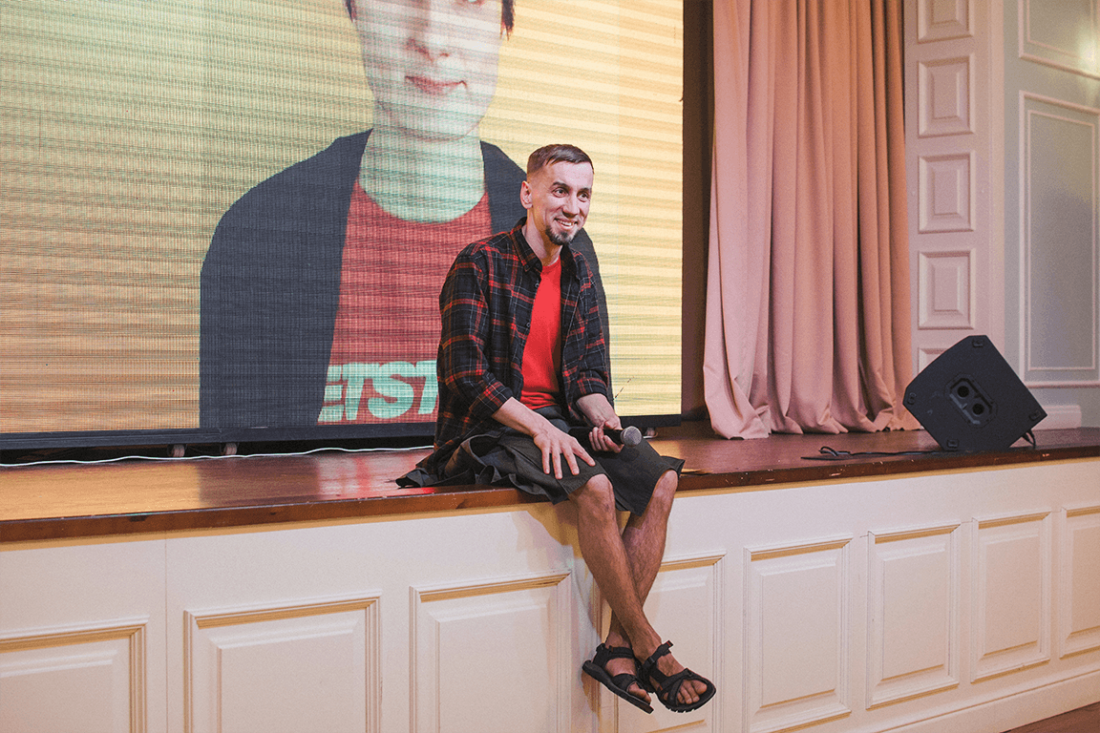 Exceptions. The heads of the company and departments do not participate in the competition – they are the jury.

The host of the event. Our PR & HR director Anna Tatyankina has been supervising and organising the contest throughout the years.
Nominations
In 2012, "OnoSamo" began with two nominations:
"Uncompromising improvisation". Both teams and individual participants could enter it. Any project/work that the manager considered accepted could be submitted;

"Painful compromise". Only officially completed projects that are implemented, work and bring obvious benefits to the client or company were included in this category.
Since 2016, sub-nominations have been added to the "Uncompromising Improvisation":
"What a beauty!",

"Technical problem",

"Complex project".
In 2017, a "Personal well done" sub-nomination was added. And in 2018, we divided it into several separate ones.
As a result, in 2020, we have six nominations. Five of them are team ones, and one is individual.
1. We had a story ...
In this nomination, participants can talk about anything related to the work process: how they defeated everyone, or how everything went wrong, but suddenly a cool solution was found. These are usually the most sincere stories, which makes the nomination especially valuable.
2. Best UX
At JetStyle, we design changes in human behaviour scenarios. And we do this using a graphical language and business logic. We have accumulated a lot of experience in this area, which is often very cool, but not very impressive in terms of special effects. We came up with this nomination so that people can tell about the cool user experience that we managed to create.
3. What a beauty!
We don't always want to explain why this project is useful to the customer and what is so effective about it. Sometimes a team just has mind-blowing illustrations or a cartoon or a video. Just beauty without unnecessary explanations – so we present it.
4. Technical problem
In this category, we evaluate complex solutions and non-trivial moves of our developers.
5. About numbers
When the Excel spreadsheet is so beautiful that you want to cry with happiness. When our employees showed analytical wonders, or made a lot of money for clients, or completed an astonishing number of tasks in Jira, or wrote a billion lines of code. In this nomination, we admire the precise results.
6. Personal well done
In this nomination, an employee performs without a team and tells about anything that they consider important and cool done by them personally.
Voting process
Initially, voting was simple – all attendees cast their votes for someone, and the jury voted separately.
But over time, the voting process became more complicated, and we began to test other methods.
That's how we:
voted with specially prepared chips and counted them manually,

collected votes through a special competition website,

collected votes through a Telegram bot,

collected votes through a Google form

and so on.
Now we have a new idea about voting for the next year, but here's what we did well this time, in our opinion: everyone's task was not just to conditionally vote for three projects in some nomination, but to make a ranked list of all projects in each nomination. This added engagement, active listening and made it possible to evaluate everything, not just individual projects and speeches.
Plus, the jury's vote, which remains a "Painful compromise" and, as always, causes a storm of discussions and controversy.
Plus, the public vote for the People's Choice Award – when everyone chooses their favourites from all the performances.
We summarise the results right at the event. It's always exciting to watch the counting of votes and the selection of the winners.
Awards, diplomas, gifts
Like any competition or award, we pay great attention to design and awards) Every year we do something new.
Firstly, the intros and cuts between nominations – we try different ideas every time.
Secondly, the diplomas for the winners. They are also different. This year, like everything else – digital) And before – hand-made.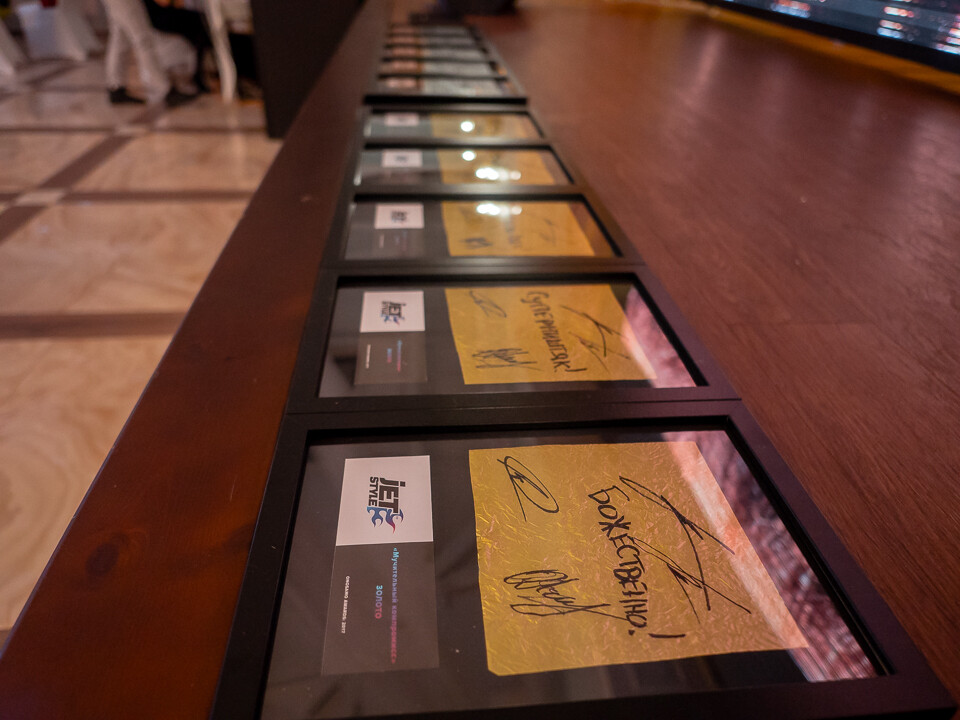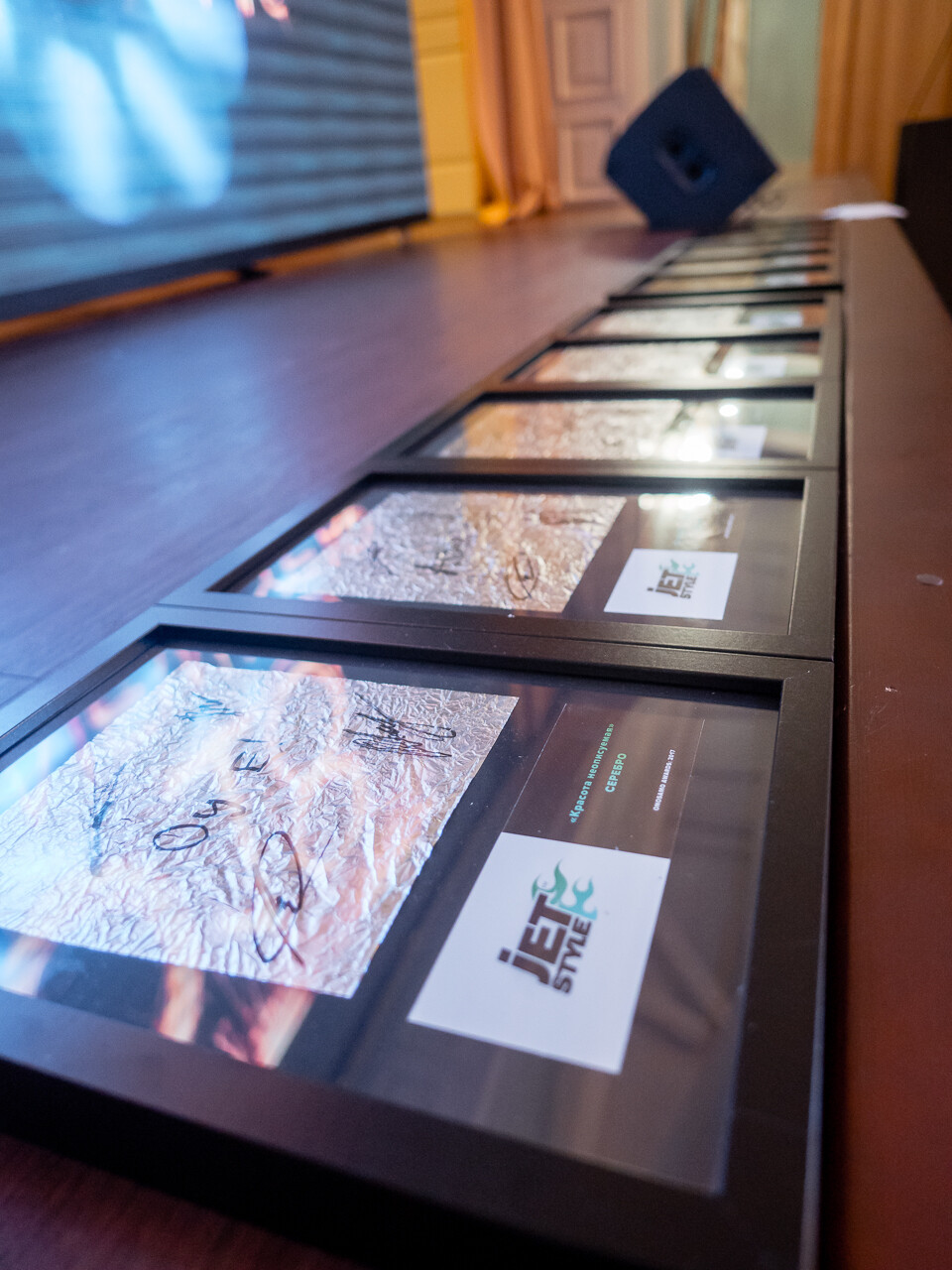 But the best part is the statuettes that we designed, modelled, 3D printed, painted and presented to the winners.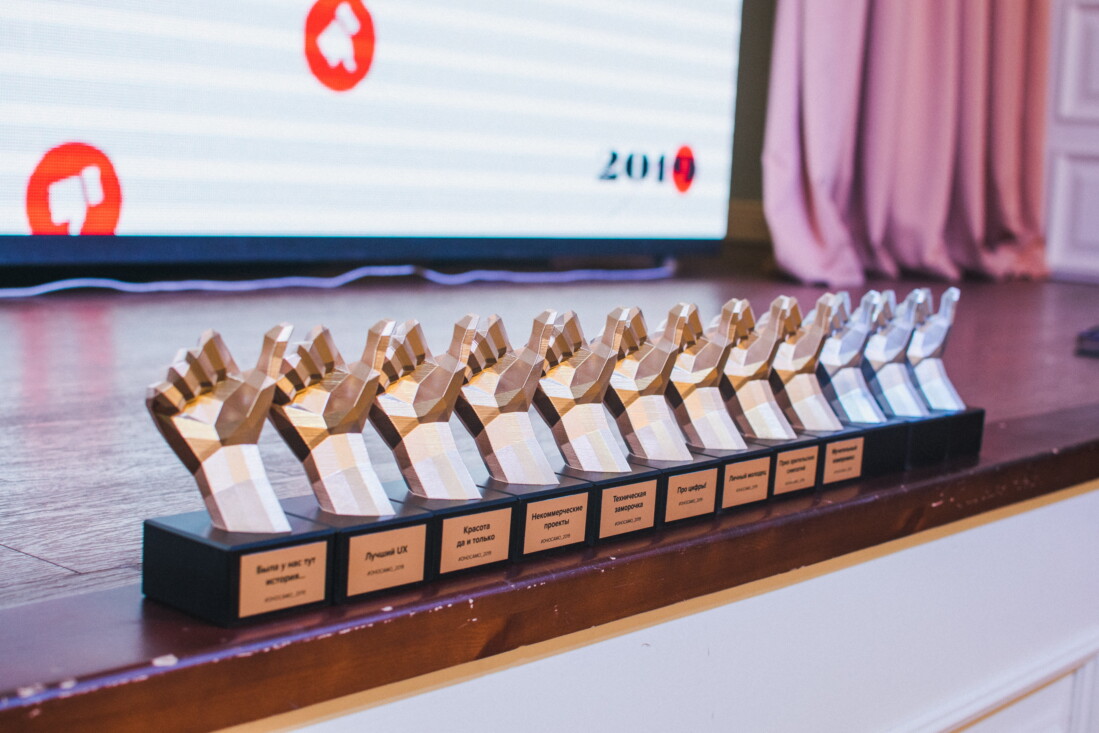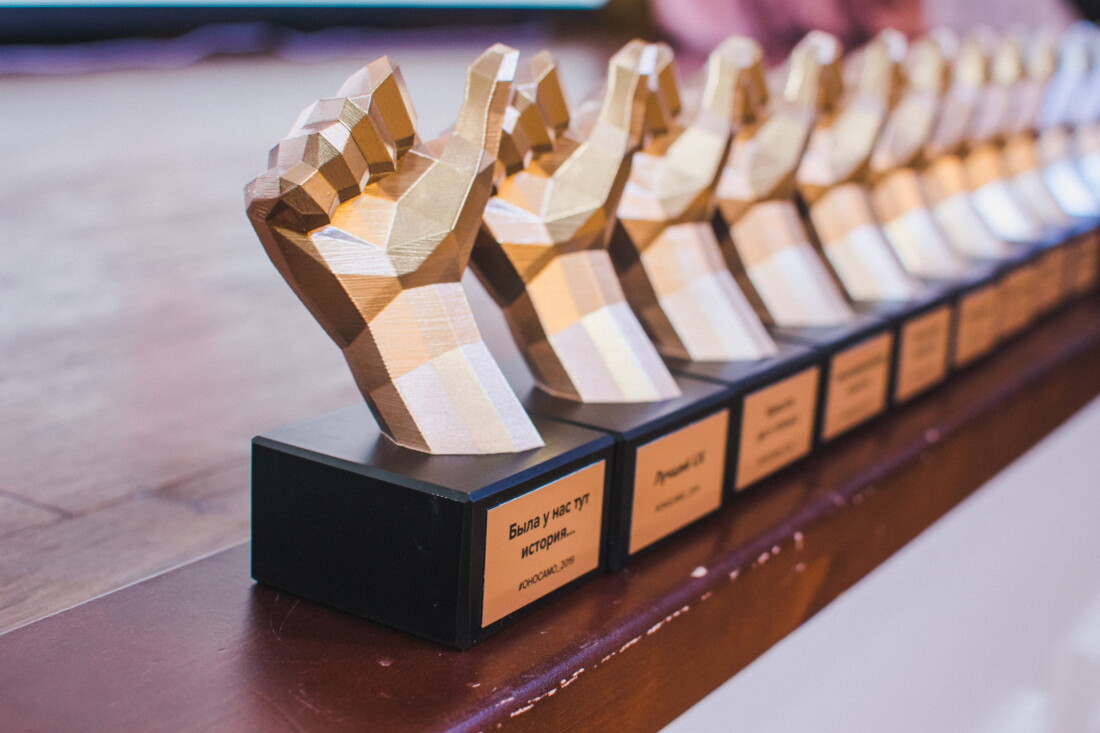 Award statuettes, same as diplomas, come in gold and silver.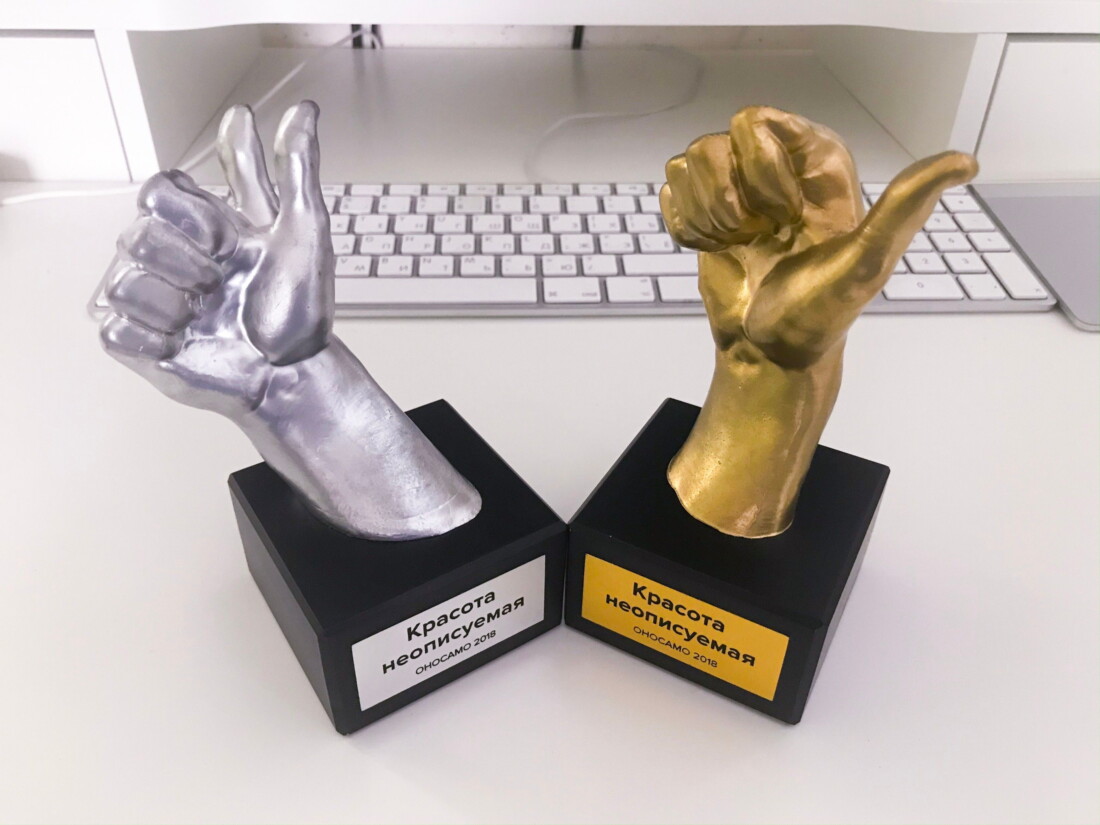 And, of course, prizes and gifts) We prefer to give something physical. Most often, these are gadgets and equipment: someone gets a new Oculus, someone gets a smartphone, someone gets a robot vacuum cleaner Valera))
Some statistics
We have been holding "OnoSamo" at our New Year's corporate parties for the last 9 years.
This year we did it online, and the competition lasted 4.5 hours. 96 people took part in the live stream.
The number of applications for the competition has increased from 10 to 30.
Every year we find out what has been done all over the office (and our PR department makes notes – what case studies to do next).
Feedback
We always collect feedback after the event. Here are some of the answers we get from the participants from year to year.
Question:
If you liked it and found something valuable for yourself, please share what exactly it was?
Answers:
The opportunity to be proud of yourself and others, as well as relax and treat work with humour.

In fact, there were inspirational speeches) This inspires personal progress in work, and even to know yourself and your strengths) You learn a lot about colleagues and the whole company, especially as a new employee it was extremely useful for me).

From some of the speeches it became clear that I am not the only one who is worried that everything is difficult and something will not work out) In general, it was surprising to find out that there are actually a lot of other projects besides mine.

I learned more about the people in the company, the most valuable was the speech of Alexey Kulakov, I learned a lot about the goals of the company and in which direction it is developing (after the "OnoSamo" competition, but before the announcement of the results we have a traditional director's speech about the results and plans –editor's note).

It is always interesting to find out what cool stuff we can do. And just learn about the ways of presenting information – each participant has their own, unique one.

I saw a lot of interesting things that have been done this year, had fun.

I remembered that the people around me are cool and interesting. Because during quarantine, you focus more on yourself and your problems. You stop being part of the team.
Of course, we not only have rave reviews, but we take them into account for the next year and try to be the best version of ourselves every time).
Conclusion
Before you start something new, you need to:
answer the question "why do we need it?",

then come up with a format,

test it several times,

collect and carefully analyse feedback each time to make the event better,

keep important things and enjoy)
Love what you do and who you do it with. Create your own traditions)