Sharing our opinion: Chatbots – Just hype or the next big thing?
`
What is all this hype about the chatbots? Why is everyone talking about them? Is it hard to program them? How to make money with a bot? Is there any chance that chatbots will soon replace mobile apps? Here is what our technical director Aleksey Spiridonov has to say on this topic. Read his full interview with habrahabr.ru below.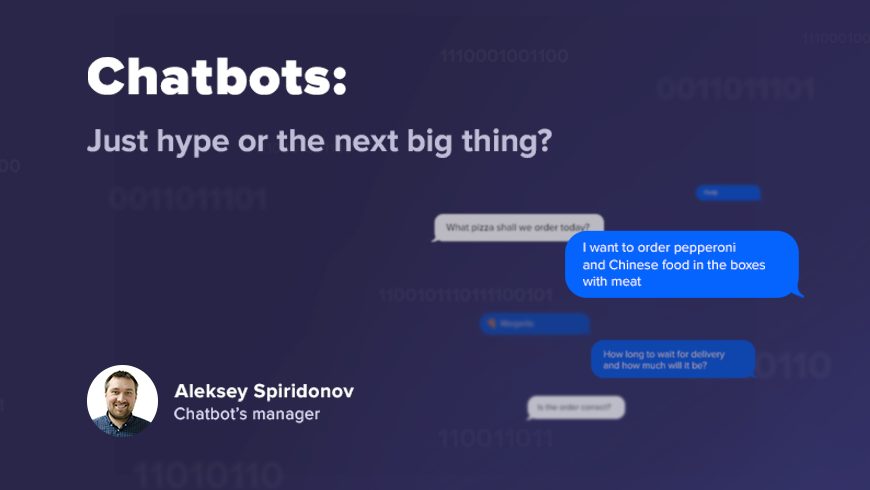 – Why did you start working with chatbots? Why is it such a popular thing now? Everyone talks about chatbots, develops chatbots, trying to invest in chatbots. Why did everyone decide that this is the future?
Today everyone has a smartphone with, at least, one messenger installed, and chat conversations have become more popular and convenient for us than SMS and emails.
Previously, people used websites and searched information through search engines. Then most of these functions moved to the social media. We met new people there, shared information, arranged meetings. Now we spend the majority of our time in instant messengers.
It is logical to assume that they will soon become a new channel for providing services and solving problems that websites or social media can't cope that well.
We at JetStyle always experiment a lot with what the new technologies offer us – whether it's chatbots or augmented and virtual reality. Now is the right time to start accumulating expertise, try new technologies and integrate them into the clients' business processes. This is exactly what we are doing.
— Why are so many people talking about chatbots but only a few are actually using them?
If you really think that chatbots are not being used much today than you probably look in the wrong place. For instance, out of 900 million people in China with WeChat installed – almost 800 millions of them are using bots. For many Chinese people, it replaces the entire Internet. Almost everything is done through WeChat: people sell goods, give presents to each other, make appointments at a hospital, call a plumber, etc.
As for Russia, there are a few points that need to be mentioned, including the API availability of popular instant messengers for developers. It seems that as soon as WhatsApp opens API, the number of bots will increase because it is the most popular messenger in Russia.
Yes, there was a huge chatbot hype in 2016. Now it's moving down the Gartner Hype Cycle to the Trough of Disillusionment stage. And afterwards, if the chatbots prove themselves, we will finally arrive at the stage of universal benefit and applicability. But those who work on developing chatbots and finding the ways of using them in their business processes right now will be the first ones to get the profit.
— Many people have the illusion that all businesses need a chatbot today. But what industries really need them and what – not so much?
We must understand one thing: chatbots are necessary not for everyone, but for those whose user-cases contain dialogues. If your tasks are solved through communication with clients, then messengers will be your number one choice as a communication channel, and chatbots will complement them. Therefore, the answer to the question: "What kind of tasks can a chatbot be used for?" is very simple: "Everything that can be defined as a dialogue".
If we talk about our cases at JetStyle, then a chatbot could be a great solution for online food ordering, for instance, – it helps to place an order and arrange delivery, sends notifications about the status of the order. The use of a chatbot helped our client to save a lot of money that they used to spend on sending SMS notifications.
— In what areas can chatbots and messengers make a good profit in the nearest future?
Well, chatbots are already making the profit now, but, perhaps, not to the extent and degree, as we would like. For example, we have a client that makes millions of rules thanks to a chatbot. But nevertheless, this is just an additional channel of profit. You need to understand this.
As for messengers, the question is more complicated here and I don't have a clear answer at the moment.
We can assume that the messengers will charge a fee for payments within them. Or they could make money on developers – for example, to charge for access to advanced functionality, hosting, user limits, development licenses or something like that. But this is just a speculation. We need to wait and see what the messengers' actions would be.
—Do you believe that chatbots can "kill" mobile apps?
I think it's too early to say that chatbots could kill mobile apps. Today, the functionality of applications significantly exceeds the capabilities of bots. Although, they have a different range of tasks they solve.
But the fact that the number of mobile apps will decrease soon is true. I think that users had enough of the apps: they need to be installed, they require a lot of Internet, they work really slow on some, not the newest phones, sometimes they leak your personal data, you need to switch between them – the list could go on and on.
—Will the chattiest be able to replace human employees in the future?
I think that eventually, chatbots will be able to replace human employees in some particular areas, for example, in technical support. There are some successful cases already.
But here we enter the territory of machine learning and neural networks, that both need huge amounts of sorted data. Not many people can afford this at the moment – either because they never collected such data, or because it is a long and expensive process. Therefore, chatbots will continue to work in close connection with humans for now.
— Do you need to be a programmer to create a chatbot? What are the difficulties in the development?
It all depends on why exactly you need a chatbot. If a simple bot is enough for you then you can use a chatbot builder, there are plenty of them available now.
But we at JetStyle are moving towards the integration of chatbots with the customer's internal systems, so you can't do it without programming. Moreover, not only a programmer is needed, it is extremely important to also have an interface designer and a copywriter involved. Our experience shows that there's no point to start programming without designing scenarios first, as you will have to start it all over again.
— What is your forecast for chatbots in the next two years?
If we are talking about proper conversations on any topics, then chatbots in Russian are at the very beginning of the journey. And I think that there won't be any breakthrough solutions in the next two years.
If we are talking about more simple "interface" bots, then certainly there will be some changes. Almost every month, leading messengers launch new features, the patterns of the chatbots' appearance are being formed, there will be even more chatbot builders, more hosting just for them, I think there will also be more libraries or frameworks in popular languages for working with chatbots.
But, as I said earlier, now it's time for us to experiment, accumulate expertise and look for the ways of integrating chatbots into the business processes.