JetStyle Digest: Best use of AR. Part 2
`
When working on our AR digest this week, we realised that we had plenty of great projects we wanted to share with you and that we couldn't physically fit them all into one post. So, we've come up with a simple solution and decided to make the second part of our JetStyle digest.
This time we will show you how this awesome technology is being used worldwide – at theatres, museums, planetariums and even at Eminem's last concert. Check it out!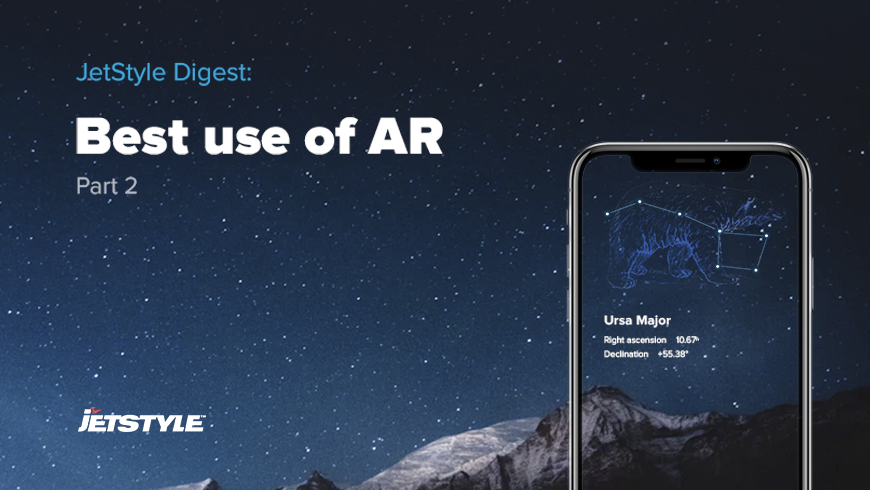 National Geographic uses augmented reality to create world's first open-air planetarium in Canada
National Geographic has teamed up with augmented reality provider Aryzon to create the world's first open-air planetarium, using AR to project images into the night sky for a unique stargazing experience.
Using the Aryzon headset, which was developed in the Netherlands and uses mirrors to project 3D mixed reality images, visitors can observe a selection of 17th-century illustrations of the constellations overlaid over the real stars and planets, without obstructing viewers' line of site. British company Escapist Games has developed the application, which runs on an Asus Zenfone 3 Zoom. Minus the smartphone, the headset can be kept by users after the show, where they can then use the app to explore the stars from home.
Celebrating the women who defy gravity
This year, Microsoft, Dr. Jemison, and Smithsonian magazine joined forces with The Intrepid Sea, Air & Space Museum to sound a rallying cry for representation and inclusion on Smithsonian's Museum Day. They came together to create Defying Gravity: Women in Space, a mixed reality experience at the Intrepid that shares the stories of previously unsung women who've made critical contributions to the US space program.
Located beneath the Space Shuttle Enterprise, the experience uses Microsoft HoloLens headsets to take visitors on a journey through the history of women in the US space program; Dr. Jemison shares these stories, as well as her own. Of course, Dr. Jemison isn't spending 10 hours a day at the Shuttle Pavilion. The tour is led by her hologram, created for the installation by Microsoft's Mixed Reality Capture Studio.
Snap back to reality: Eminem debuts augmented reality app at Coachella
Eminem is known for raging against the machine, but it's a new year, and it seems like he's viewing things through a different lens now that he's given fans an Augmented Reality with his new app, which he introduced during Coachella. Recognizing that a new generation of concertgoers feel a need be on their phones or smart devices during concerts and live events, the Detroit MC introduced fans to Eminem Augmented.
Drive Studios, the multimedia production company behind the app, curated an experience that provided onlookers with a unique experience beyond those viewing the show with a naked eye. Through Eminem Augmented, festival goers were met with a Godzilla-sized Marshall Mathers knocking down buildings, swiping at helicopters and a floating Jason mask with a butcher knife and chainsaw cutting into the crowd.
These AR glasses aim to transform the theatre
London's National Theatre adopts AR glasses to make theatre accessible to everyone. The technology, dubbed Open Access Smart Capture, has been developed by the NT in collaboration with live-subtitling expert Professor Andrew Lambourne and the Accenture Extended Reality group. It's based around pairs of Epson Moverio BT-350 smart glasses, which relay captions for a play in real-time over Wi-Fi. The idea is that audience members will be able to order the headsets for any production for free, pick them up ahead of the performance and hand them back in when it's finished.
According to the charity Action on Hearing Loss UK, there are currently 11 million people with hearing loss in the UK, and that number is expected to rise to 15.6 million by 2035. With potentially one in five people suffering in the not-too-distant future, technologies such as this aren't just a flash addition to cultural institutions, but a lifeline to audiences that might otherwise never step foot in a theatre. Instead of a handful of captioned performances, AR subtitling could open the doors for people with hearing loss to come to any performance, and to sit anywhere in the theatre.
Become Iron Man With Hasbro's Hero Vision AR Helmet
Have you ever wanted to become genius billionaire Tony Stark, aka Iron Man, and zip through the world in an armored suit only to battle baddies, defend cities, and face off against fierce villains to save the world? Now becoming Iron Man is closer than ever. Coming this Spring for $50, Hasbro is releasing the Hero Vision Iron Man AR Experience, an augmented reality physical and digital play experience that transforms kids into Iron Man as well as bringing their favorite Marvel Universe characters to life.
Hero Vision is for kids 8+ and includes the Iron Man Mask, AR Goggles that are compatible iOS/Android smartphones, an AR Gauntlet, three AR markers, and one Infinity Stone. When it comes to safety, Hero Vision does not use bluetooth or wifi, which means no data is collected, letting kids safely play the COPPA-compliant game.