JetStyle Digest: Best use of AR
`
As you already know, Augmented Reality is one of our main passions and areas of expertise. We spend a lot of time researching this field and studying the latest trends. This week we decided to share some of our findings with you.
We asked our art director to pick some real projects that have used AR technology and the result was awesome. From smart car window for blind passengers to the technology that visually alerts soldiers to hidden explosives – check out our new JetStyle Digest for more details!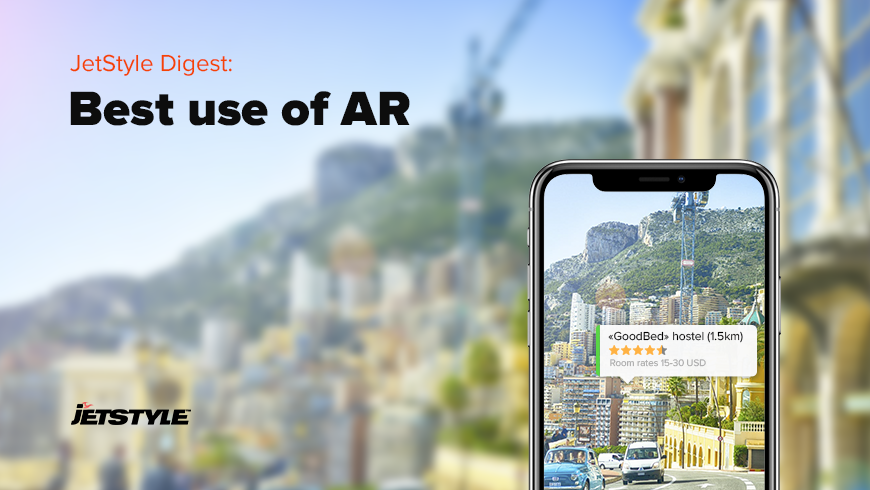 Shopify AR powered by 3D Warehouse
Shopify has added the support of ARKit to their product. Shopify AR allows customers on iOS 12 devices to view realistic and interactive versions of the products in augmented reality (AR). Now, any owner of the online store on Shopify platform can upload 3D models of their products and provide potential customers with a better sense of the size, scale, and detail of their future purchase.
In addition to the possibility of adding ready-made models, the company has created a portal where shop owners can also order the development of 3D-models from their photos.
Here is how it works:
Snapchat to launch augmented reality art platform tomorrow
Snapchat plans to launch a new augmented reality art platform featuring pop artist Jeff Koons and others. It will allow art to be pinned to specific locations in augmented reality so users can see it when they hold up their phones in the right spot.
Snapchat plans to roll out the feature with Koons's art around the world as seen in these photos from Las Vegas, Sydney and Paris. A source tells TechCrunch the feature is based on technology from Cimagine, an Israeli AR startup Snapchat acquired in December. Similar tech powers its World Lens, like the dancing hot dog that got more than 1.5 billion views on Snapchat, plus its new Sponsored World Lens ads.
Weather Channel demonstrates dangers of Hurricane Florence using mixed reality
With every kind of weather disaster, local authorities are faced with the challenge of convincing residents that evacuation is crucial, and they can often fail to do this before it is too late. Through immersive simulations, AR technology can help make this message hit home.
The Weather Channel has recently used augmented reality to convey the severity of the threat posed by Hurricane Florence. For those who may be struggling to grasp the full magnitude of the incredibly dangerous situation, the channel has employed the use of immersive mixed reality technology to better demonstrate just how nasty things are about to get for coastal southerners. Powered by Unreal Engine 4, the system places Weather Channel reporters into an augmented version of the storm, accurately displaying the severity of potential flooding by raising the water levels around their staff in real-time.
Army developing system to allow Soldiers to see buried bombs for route clearance
The Army is developing technology that visually alerts Soldiers to hidden explosives in the ground rather than just providing them an audible notification during use of mine detector equipment.
Called real-time spatial location tracking, the technology can show sensor images of buried bombs on either a heads-up display or tablet attached to a handheld detector.
As a Soldier sweeps with the device, a colored representation of the area – where orange means the user is close to a metallic object – appears on the screen.
The goal is to keep Soldiers safe when clearing routes by being able to better identify potential threats.
Ford's smart window displays view to blind passengers
From rolling hills to mountain ranges, views make any road trip memorable, but for blind passengers, this is part of the experience that they miss. A prototype smart car window aims to change this – by enabling blind or partially-sighted people to visualise passing scenery through touch.
Feel The View takes pictures that are turned into high-contrast monochrome images. These are then reproduced on the glass using special LEDs.
By touching the image, different shades of grey vibrate with a range of 255 intensities, allowing passengers to touch the scene and rebuild in their mind the landscape in front of them. Feel The View was conceived and developed by Ford of Italy and GTB Roma, in collaboration with Aedo – an Italian start-up that specialises in devices for the visually impaired.