JetStyle: The story behind our logo
`
Not long ago we told you how we came up with the name for our company. Now, let's talk about the logo. Where did the burning pixel come from? Why does a company need a long version of the logo? And whether it's good or not if people want to wear your logo on a leather label?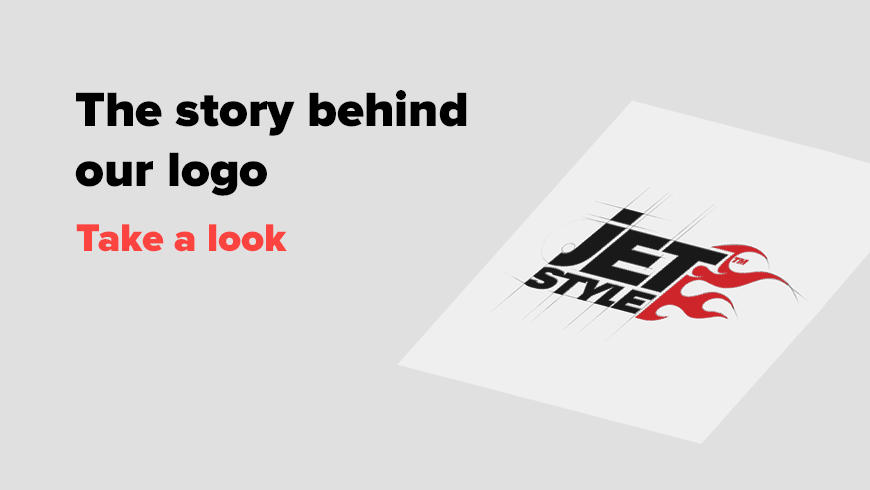 Here is the story:
It was much easier with the logo than it was with the name. As our CEO Alexey Kulakov claims, he just sat down and drew it straight away. It was (and still is) double – made of two levels.
What did we want to say? Well, we knew that our logo should be about speed and fire (fire is, actually, a very important part of our brand identity). That we are like "Wrooom-wroom, a gang of bikers in bandanas". Although to be honest, we've only got real bikers among our employees a few years ago.
Today it looks, let's say, a little dated :) Maybe even heavy. We could've made it look lighter but we don't really want to touch the original logo. Two years ago we tried to update it but it didn't work well and we decided to leave it as it was.
In about a year after we had a double logo, we also made a long single line one. The thing is – when you need to be featured on the same page with many other companies' logos (i.e.: "Our Partners" page), it's always good to have a long logotype. The longer it is, the more space it takes on the page (and the more attention it gets).
Later on, we've added a short JS logo to our collection. Which then has been shortened to just a burning pixel for our favicon.
All of these options are still used today.
And finally, there is a funny story about our logo.
Once upon a time, we sat in a small office in the courtyard of the building that had its gates opening onto Lenin Avenue (right in the city centre). And we thought – here it is, the place with some of the highest footfall in the city! We should put our sign here (by the way, it was the only time in JetStyle history when our sign was hanging somewhere outside). And just like that people started coming over! Although, they all thought we had a denim store.
Long story short, if people want to wear your logo on a leather label – it probably turned out pretty well!