What is a chatbot?
A chatbot is an automated intelligent customer service system. It's a virtual companion that integrates into instant messengers and helps your business stay closer to your customers.
Why are bots useful?

A chatbot is cheaper to develop than a mobile application, because you are saving on a user interface design.

Bot is easy to integrate, if your website, mobile application or CRM already has an API.

Chatbots are a new channel that works well to increase your retention rate and customer loyalty, and compare to email blasts and SMM, bots deliver a more engaging experience.

Chatbots easily scale. If you launch a bot in one messenger, then it won't take much time to carry it over to another one.

The wow effect! An extra competitive advantage never hurts anyone.

Your users don't need any additional software to be installed. Bot can be set up with a single click/tap in a messenger that they are already using!

There are no special requirements to the hardware. Instant messengers run even on the most basic smart phones.

User interacts with the chatbot in the messenger interface that's familiar to them, ensuring a comfortable experience.

Chatbots work well even over slow Internet connections.

Chatbots are quickly upgraded as there's no need to wait for each new version approval on Google Play or AppStore.
Where can bots be found?
Chatbot is a virtual companion that integrates into messengers. The amount of messengers users is constantly growing, surpassing the number of social network users.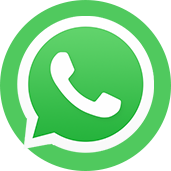 WhatsApp
1.200.000.000

Facebook messenger
1.100.000.000

Skype
300.000.000

Viber
240.000.000

Telegram
170.000.000

Slack
1.100.000

Tencent QQ
899.000.000

LINE
220.000.000

ICQ
10.000.000

Mail@agent
27.000.000

Kik
300.000.000

WeChat
806.000.000

BBM
100.000.000
What can bots do?
Chatbots can do virtually anything that can be accomplished in a natural dialog: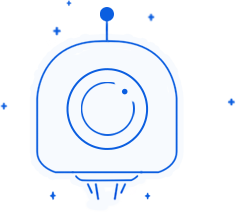 Search
for information

Communicate
face-to-face or in a chat
room

Showcase catalog items and
add them to the shopping cart

Find and display images

Provide hints and advice,
depending on user replies


Search for information

Communicate face-to-face or in a chat room

Showcase catalog items and add them to the shopping cart

Find and display images

Provide hints and advice, depending on user replies
This may look like this:
What can't a bot do so far?
There are some limitations so far, but we know how to handle them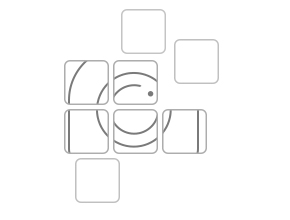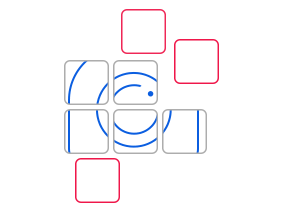 Interaction
patterns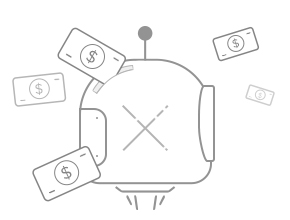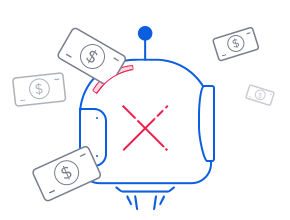 Payment processing
through messengers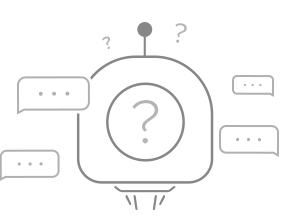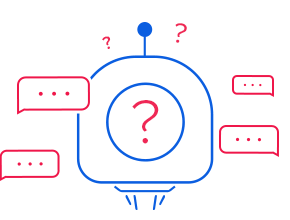 Natural language processing
Problem
Chatbots have not yet developed intuitive, unambiguous and generally accepted patterns of performing similar actions. This problem is also caused by the state of the art of both the instant messengers and the bots.
Solution
We apply natural chat communication patterns. We use written text and ask questions one by one, bringing users to the final goal (order placement, for example) in a linear mode.
Problem
Customer cannot finalize purchases via communications with chatbot. This problem is inherent to the state-of-the-art messengers.
Solution
We can provide an order link leading to the payment provider's website to finalize the payment. However, many messenger developers have announced payment processing to be available directly in the chat very soon.
Problem
A basic chatbot cannot process freely constructed human language statements. Natural language processing technologies are not yet ubiquitous, so a neural network-based bot capable of learning is not easy/cheap to implement.
Solution
We design chatbots that ask questions in the right order to get the information that they need from users to perform customer service functions. We teach bots to identify specific words and process them the right way.
Stages of creating chatbots for businesses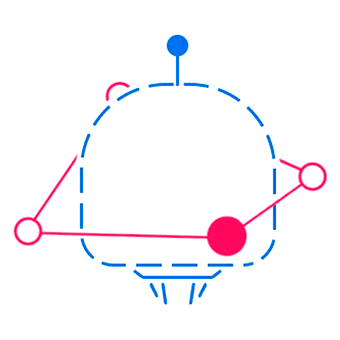 Bot design
Apart from commands and scripts, we develop bot communication style. All bot replies must be clear and concise and be in the context.
At this stage we:
develop user interface that includes keyboards with command sets;
write copy for the bot's replies.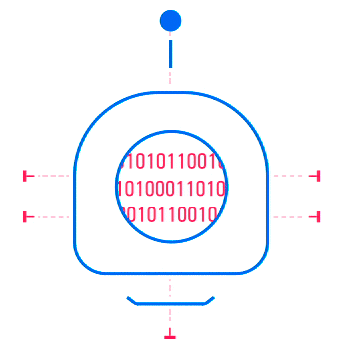 API development
Bot must be able to work with the other business process participants: the website (access to data and functionality) and/or the corporate CRM. For this reason, an API* is developed.
If there is already an API in place, then the bot will communicate through it.
*API
(application program interface) is a set of classes, procedures, functions, data structures and constants exposed by an application (library or service) or an operating system so that those could be used in third-party software.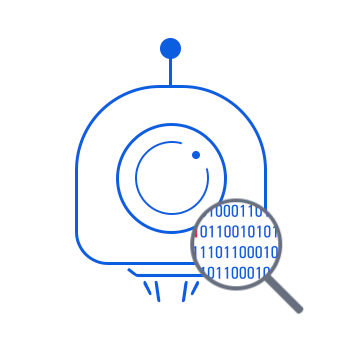 Chatbot development
Implement commands,
connect via API,
get the bot registered in the messenger,
configure bot parameters.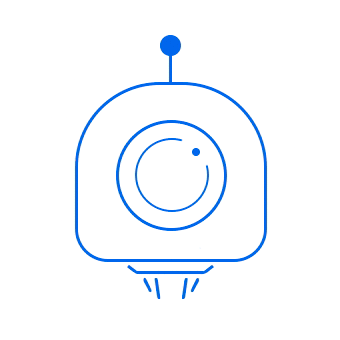 Launch the bot and gather analytics
Push the bot from the testing environment to production,
integrate analytics and conversion funnel tools.
After launching the first bot and analyzing the statistics, we tune scripts and algorithms. Then we develop bots for other messengers. The more chatbots you have, the more target audience segments you'll reach.
Chatbot for food service businesses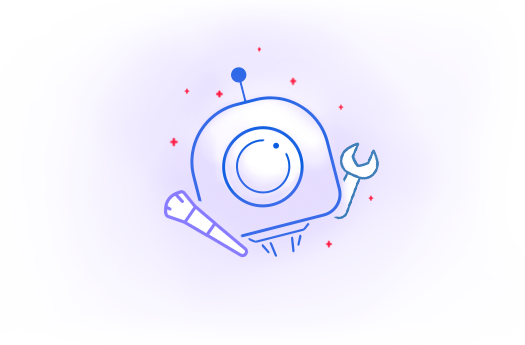 What it can do:
Basic version:
inform on the meals and drinks currently on the menu,
accept orders with or without delivery,
add meals to the cart, browse and change items in the cart,
view history of visits and orders,
inform about specials, news and new products,
conduct surveys and get feedback in real time.
Extra features:
accept table reservations
work in connection with loyalty programs.
What information we need at the start
whether there's an API for orders, table reservation, delivery, etc.
Benefits for the business:
an extra sales channel,
reach regular clients where they feel comfortable and in the way that's convenient for them,
reduce user waiting time (as compared to human operator interactions),
boost customer loyalty,
collect feedback in a more comprehensive and thorough manner, handle complaints quickly and efficiently,
an extra informal competitive advantage – the wow effect.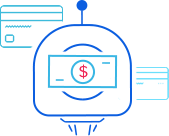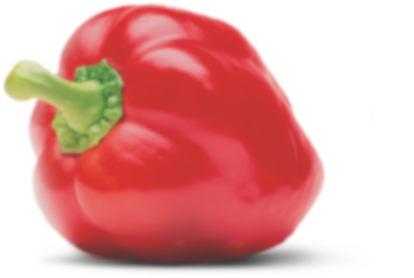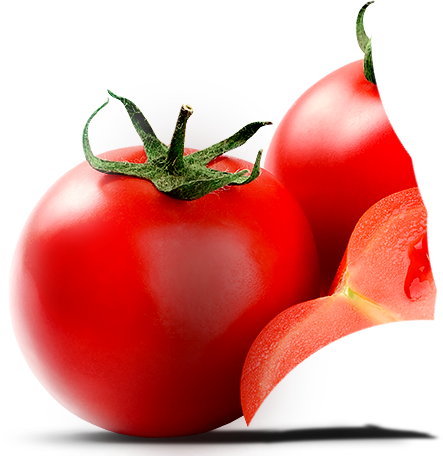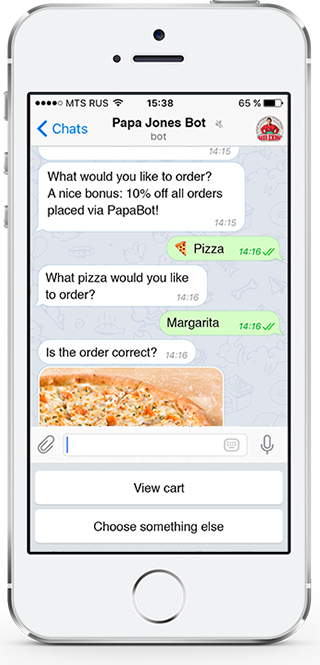 Still not sure if a chatbot will be of any use?
See what value the chatbot has delivered over a few months of testing!
Launch:
June 2016
Promotion costs:
zero.
Pizza restaurant clients received an email
with a link to the Telegram channel.

In three months,
1,255 orders
have been
placed via the chatbot, for the total amount of
$24,000.

In the first two days,
1,500 users
gave
their contacts to the chatbot.

By the end of August,
4,000
users started using the bot.

User conversion during the test run:
32%.