Our clients cases
We value relationships that we have established with our clients.
We have been working with many of them for years
Papa John's is an American pizza restaurant chain and we've been working with them since 2012. Since then, we have developed a website, set up a call center, a mobile application and a Telegram chat bot. And this list is not complete.
Microsoft is the global IT leader, providing a wide range of hardware and related services, as well as software and IT services. Microsoft Russia headquarters are located in Moscow. We started working with them in 2011.
SAP CIS
SAP is the world leader in enterprise applications in terms of software and software-related service revenue. SAP CIS is a division of SAP SE, the international company. We started working with them in 2011.
Yandex
Yandex is a major Russian IT company that owns a search engine and online portal under the same name. We have been providing services to Yandex since 2007, but most projects are under NDAs so we can't discuss them.
Dom.ru is a major Russian ISP and commercial television provider. We've been providing services to Dom.ru for over 3 years and we continue developing the company's digital services.
LitRes
LitRes is an ebooks aggregator, distributor and seller in Russia and CIS. For LitRes we redesigned the Read! and Listen! applications, plus, a Facebook application.
more than 400 other customers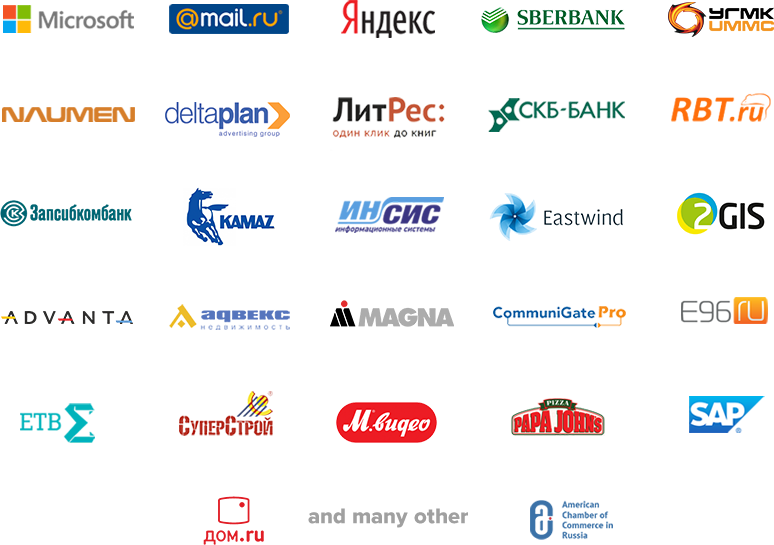 We don't just create beautifully designed and planned websites and apps, we produce effective tools for your business!